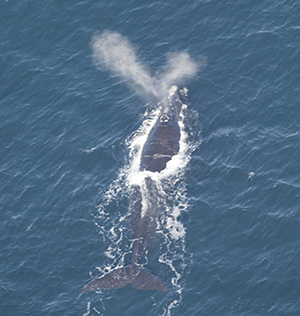 Photo credit: NEFSC/NOAA
NOAA recently announced a new sign campaign to protect North Atlantic right whales in Northeast U.S. waters. The new signs will encourage recreational and commercial boaters to report sightings of these whales and to keep a safe distance from them.
The two by three foot aluminum signs feature right whale graphics, key facts, and hotline numbers to report right whale sightings, or marine mammals and sea turtles in distress. NOAA plans to display the signs at boat ramps and marinas in the Northeast, with an initial focus on key spots around Cape Cod Bay.
In addition to NOAA Fisheries, collaborators include the International Fund for Animal Welfare (IFAW), Center for Coastal Studies, New England Aquarium, U.S. Coast Guard, Massachusetts Division of Marine Fisheries, Whale and Dolphin Conservation, and See a Spout, Watch Out!, a program to promote responsible whale watching.
source: NOAA Fisheries