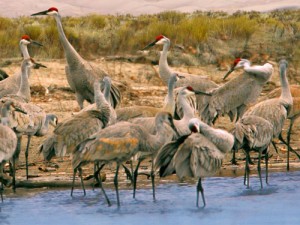 From April 15 to May 15, hundreds of birders will flock to the coast, forests, prairies, and mountains of Texas to compete in the nation's biggest, longest and wildest bird watching tournament.
The registration deadline for the 20th annual Great Texas Birding Classic is April 1. The competition has expanded statewide to record participation with new categories which range from budding naturalists to avid birders.
Competitors can choose from more than 40 tournament categories to test their birding skills, participating for as little as half a day or as long as a week in a statewide tourney.
Participants form a team and compete in such categories as the Big Sit!, in which birders must remain within a 17-foot-diameter circle to count their birds.
Other categories include a sunrise-to-noon event, youth-only tournaments, a human-powered contest and one tournament held entirely within Texas state parks.
Last year, more than 530 competitors competed in the Birding Classic, documenting 413 out of 643 documented avian species in Texas. The 2015 event attracted a record-breaking 100 teams that competed from Far West Texas and the Texas Panhandle to the Golden Triangle in southeast Texas and the Valley down south.
The Birding Classic sported family teams, teams of work colleagues, birding buddies having their spring birding get-away together and more.
Registration fees and team sponsorships for the event raise money for birding and habitat conservation, restoration and enhancement grants throughout the state, helping preserve critical bird habitat and support nature tourism.
Overall last year, the tournament raised $25,000 for conservation grants–a 40 percent increase from the previous year. Since its inception in 1997, the Great Texas Birding Classic has awarded conservation grants totaling $844,500.
To register online and learn more about the tournament, visit www.BirdingClassic.com.
source: Texas Parks and Wildlife Department