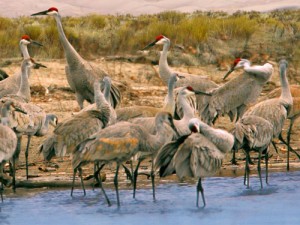 The Migratory Bird Conservation Commission recently approved $33.2 million in funding for the U.S. Fish and Wildlife Service and its partners to purchase, lease, or otherwise conserve more than 81,000 acres of wetland and associated upland habitats for waterfowl, shorebirds, and other birds across the United States.
"The first Migratory Bird Treaty was signed 100 years ago as part of our commitment to protect and conserve North America's treasured migratory bird species," said U.S. Fish and Wildlife Service Director Dan Ashe. "The funding approved by the Migratory Bird Conservation Commission is evidence that this commitment endures today as strongly as ever."
Of the total funds approved by the commission, $21.5 million will be provided through North American Wetlands Conservation Act (NAWCA) grants to conserve more than 68,000 acres of wetlands and adjoining areas in 19 states.
NAWCA is the only federal grant program dedicated to the conservation of wetland habitats for migratory birds. For a complete list of projects funded, see http://www.fws.gov/birds/grants/north-american-wetland-conservation-act.php
The commission also approved expenditure of $11.7 million from the Migratory Bird Conservation Fund to conserve more than 13,000 additional acres at four national wildlife refuges – McFaddin in Texas, Felsenthal in Arkansas, Lower Hatchie in Tennessee and Turnbull in Washington.
The funds were raised largely through the sale of Federal Migratory Bird Hunting and Conservation Stamps (Duck Stamps), which help provide habitat for wildlife and increased opportunities for refuge visitors who hunt, bird-watch, photograph and view wildlife.
An additional 52 small grants worth $3.7 million were awarded earlier in the year by the North American Wetlands Conservation Council. The commission created its Small Grants Program in 1996 to encourage new grantees and partners to carry out smaller-scale wetlands conservation projects that may otherwise not be able to compete in the U.S. Standard Grants Program. In June 2016, the Commission approved an annual $5 million spending limit for small grants, to be awarded at the discretion of the council.
The commission is chaired by the Secretary of the Interior. Its members include U.S. Senators Thad Cochran of Mississippi and Martin Heinrich of New Mexico; Representatives Robert J. Wittman of Virginia and Mike Thompson of California; U.S. Secretary of Agriculture Tom Vilsack; and Gina McCarthy, Administrator, Environmental Protection Agency.
source: U.S. Fish and Wildlife Service