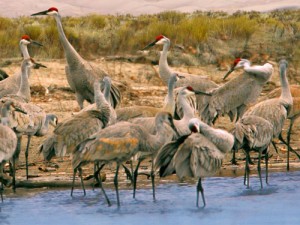 Approximately $18 million in Neotropical Migratory Bird Conservation Act (NMBCA) grants will help benefit bird populations, according to the U.S. Fish and Wildlife Service (USFWS).
The NMBCA provides critical funding each year for bird conservation and research throughout the Western Hemisphere and is the only source of federal funding solely dedicated to the conservation of a shared migratory bird heritage.
This year, over $3.8 million in federal funds will be matched by more than $14 million in partner contributions going to 31 collaborative conservation projects in 19 countries across the Americas.
The NMBCA grants will fund projects to conserve migratory bird habitat, engage local communities in bird habitat protection and strengthen international relations, while raising awareness of the importance of bird conservation.
There are 386 species of neotropical migratory birds that migrate to and from the United States each year, including songbirds, shorebirds, and birds of prey.
These birds provide critical functions that humans rely on, such as pollinating and dispersing seeds of plants, keeping insect and rodent populations in balance, and providing early warnings of environmental contamination.
The NMBCA program is specifically designed to send at least 75% of its funding to projects in Latin America and the Caribbean, where habitat loss and other threats to migratory birds that spend part of their lives in the United States are significant and conservation funding is scarce. Because the program works throughout the Western Hemisphere, it is able to support the full life-cycle needs of the birds.
Since 2002, the NMBCA has provided more than $58.5 million in grants to support 510 projects in 36 countries. These projects have positively affected more than 4.2 million acres of bird habitat and spurred partnerships on multiple levels contributing an additional $221.9 million.
For more information on Neotropical Migratory Bird Conservation Act (NMBCA) grants, please visit: www.fws.gov.
source: U.S. Fish and Wildlife Service