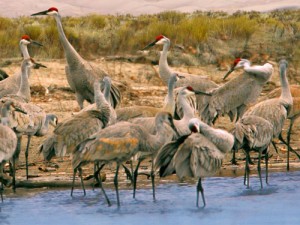 2018 is designated as the "Year of the Bird" by National Geographic, the National Audubon Society, the Cornell Lab of Ornithology, BirdLife International, and more than 100 other organizations.
Year of the Bird will examine a changing environment is driving dramatic losses among bird species around the world and highlight what can be done to help bring birds back.
Participating will be nonprofit and conservation groups, state and federal agencies, zoos, nature centers, ornithological societies, bird clubs, and other organizations.
Coinciding with the centennial of the Migratory Bird Treaty Act, Year of the Bird events will include 12 months of storytelling, science research, conservation efforts, and other events.
In celebration of Year of the Bird, the public is invited to participate in variety of efforts, locally and online.
Throughout 2018, BirdYourWorld.org will offer information about Year of the Bird events and actions. The website also invites visitors to make a pledge to participate.
For example, bird enthusiasts will be encouraged to join the worldwide Great Backyard Bird Count in February, plant native plants in the spring, and cut back on the use of plastic materials.
The campaign will also utilize National Geographic's portfolio of media platforms reaching millions of people around the world with engaging bird content that will educate, inspire, and raise awareness about the challenges that birds are facing and what people can do to help.
Year of the Bird information is available on social media under #BirdYourWorld