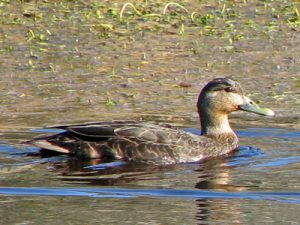 The North Dakota Game and Fish Department's annual spring breeding duck survey conducted in May showed an index of 3.4 million birds, down 5 percent from last year.
Survey results indicated all species, except ruddy ducks (up 19 percent) and gadwall (up 4 percent), decreased from their 2015 estimates, while shovelers remained unchanged.
Mallards were down 9 percent, pintails down 17 percent and canvasbacks down 18 percent. However all species, with the exception of pintails and canvasbacks, were above the long-term average (1948-2015).
The number of temporary and seasonal wetlands was substantially lower than last year, with the spring water index down 50 percent, according to North Dakota Game and Fish Department migratory game bird supervisor Mike Szymanski
"However, conditions coming out of May into June were much wetter than what we observed during the week of the survey," Szymanski added. "Frequent rains have since filled many wetlands that are beneficial for breeding ducks."
The water index is based on basins with water, and does not necessarily represent the amount of water contained in wetlands or the type of wetlands represented.
North Dakota Waterfowl Facts
North Dakota is part of the Prairie Pothole Region, North America's most important breeding area for ducks and a breeding area for Canada geese.
Ten species of ducks commonly nest in North Dakota.
The blue-winged teal is the state's most abundant breeding duck.
Seven species of dabbling ducks breed in North Dakota.
Three species of diving ducks breed in North Dakota.
source: North Dakota Game and Fish Department